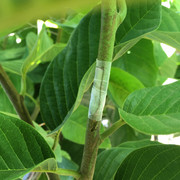 July 16
Slice off a bud with leaf hooked up.
Seal the wound so donor shoot continue to grow.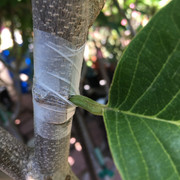 Insert bud.
Seal graft.
Tie graft with rubber band.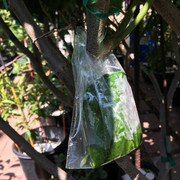 Minimize off the tip of the nurse leaf.
I take advantage of sandwich ziplock bag so I preserve about 4" of leaf.
Fill bag with 1/4" of water then zip it over leaf.
Bend the two ends of the bag up over the rootstock then clamp the ends to help the load of the water.
No must take away any leaves or tip on the rootstock above the graft.
4-5 weeks later minimize off the nurse leaf.
Trim rs again to 4" above graft or take away some bark above graft to let bud develop.
It's okay to chop off nurse leaf after 3 weeks however bud gained't develop till graft healed, about 5-6 weeks.
By Oct ninth graft grows this massive.
Trim rootstock above graft and name it accomplished.
I've over 20 grafts of this sort happening this present day Nov 21th.
Success price presently is larger than cleft graft in spring, when scion is contemporary.
With this methodology you possibly can set buds 90 levels aside, or 120, or any angle you want.
With cleft you're caught at 180.
Attempt it.
The rootstock will not be harmed throughout this graft.
Worst case minimize under graft to cleft in spring.