Purchased a 3 gallon Sales space Seedling from a nursery a couple of years in the past. Tree is about 8-10 ft now and I've 5-6 totally different types of cherimoya and atemoya on it. I've had Fino de Jete and Pierce branches produce fruit as typical. However, the rootstock fruit don't appear to develop all the way in which. They simply cease rising. I feel the biggest one final 12 months was concerning the dimension of a billiards ball.
All had been hand pollinated and are on totally different components of the tree. I thinned the fruit closely this 12 months so I may be sure that was not the difficulty. I solely saved 8 fruit on it this 12 months since I've one other fruiting tree. Nonetheless identical consequence.
Here's a image of what the fruit seems to be like: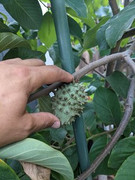 And here's a image of a pierce that was pollinated about 3 weeks after that fruit: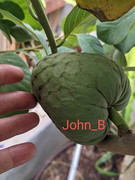 Anybody else expertise this? Only a dangerous fruit on this rootstock? I assume I could have to do heavy pruning this 12 months to high work this tree. Not too excited if that is the case.
Additionally, LM3 does not appear to maintain up with the cherimoya grafts on all my timber. Not as vigorous, I assume. Will in all probability axe them however attempt to graft on a small seedling. The tremendous AP has no drawback maintaining.
On one other word, hoping this seedling tree is a winner. Quick progress, dealing with the warmth, and set fruit quick.